Buzz and Jackson Visit Year 2 & 3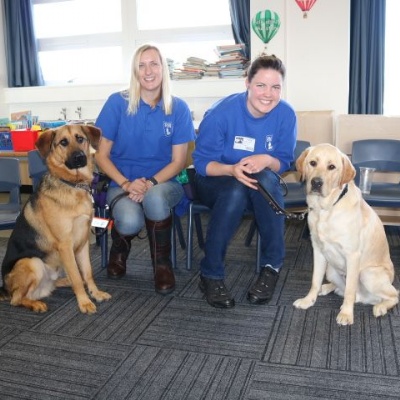 Jackson and Buzz are in training to learn to support someone who is blind or visually impaired. The two dogs and their trainers came to help the children learn about what guide dogs do and how vital their service is.
The dogs and their trainers went to assembly first. Jackson and Buzz sat beautifully while the children listened to lots information about guide dogs. We learned there are 55,000 blind people in the UK, and there is a waiting list for guide dogs as they go to those who need them most first. Guide Dogs for the Blind is a charity and they raise money to train guide dogs from when they are puppies, most guide dogs are Labradors but other breeds also make good helping dogs. Buzz is a Labrador and Jackson is a Labrador crossed with Alsatian.
Jackson and Buzz then took a tour of the classrooms, where the children were allowed to stroke them and ask more questions. Buzz enjoyed his time in 2 Sycamore, the children all sat in a circle and Buzz came round them all to say hello. He kept lying down and his trainer told us this means he is happy and relaxed, so he was given a treat for being good. Guide dogs don't get snacks, their trainers take some of the food out of their dinner and they have that as treats, this is to ensure they don't get overweight. The children asked "can the dogs go up and downstairs". They can, and they stop at the top and bottom and sit down so their owner knows there are stairs ahead. We also learned that guide dogs can go on holiday and on aeroplanes but most of the time the dog has a holiday while their owners are away. The children also asked "how do the blind people know when the dog is there?" so the children were asked to close their eyes and they realised they could sense Buzz by his breathing and his warmth. Guide dogs also wear bells in the home so the blind person can hear them.
Guide dogs can answer the door, pick up washing, guide their owner across a road and lots lots more! They work very hard until they are around 8 years old, then they get to retire, where they will go and live with a sighted person.
Everyone really enjoyed meeting Buzz and Jackson, we have learned a lot about how they help blind people, this term we will learn lots more about people and animals who help us. The children are excited to see who will visit next!
I learned you mustn't stroke guide dogs when they are working because it might distract them.
I was really shy of dogs to begin with but they were really calm and really clean, Buzz was a lovely blonde gold colour.