Adventure Passport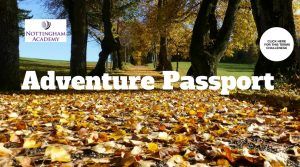 Nottingham Academy will be setting some exciting adventure challenges this academic year, this is a great way of engaging the children with the outdoors and to provide them with a range of skills by the end of each year. We feel very passionately about encouraging the children to get outside in the fresh air and challenging themselves to experience new adventures.
Throughout the year children will be visiting Colwick Woods, taking part in building dens and shelters, collecting materials for art and enjoying lessons outdoors.
Conker Competition
Year 4, 5 and 6 held a Conker Competition, the children collected conkers and used many methods to make them tough ready for a game of conkers with Mr Jones. It was great to hear the children talking about how they went conker collecting with their grandparents and other family members or friends during their free time. Conker gallery
Autumn Leaves
In October there were fallen leaves absolutely everywhere, the children were challenged to get a photo of themselves in the colourful Autumn leaves – the more creative, the better! Autumn Leaf gallery
Extreme reading
Pupils were challenged to read in adventurous places. Extreme reading gallery
Christmas Cool Creations
Create a Christmas/Winter themed piece of art using natural/outdoor materials somewhere on the piece. Christmas Cool Creations Gallery
In the interest of helping as many children take part as possible, we have set up an e-mail account specifically for adventure challenge entries so that you and the children can e-mail us your photos straight from your phones/computers without having to print them off.
primaryadventure.51@nottinghamacademy.org
Please make sure photos are of Nottingham Academy pupils only. Images sent may be shared on our website or our twitter feed @NottinghamAcad please note in your email if you wish your photo to be used for internal use only.
In addition to competition entries, we would love for you to send any photos of the children doing anything adventurous outdoors during their free time, whether it be going on a bike ride, a long walk or building a shelter out of sticks! We look forward to seeing all your photos and getting you involved in our adventure activities as well as the kids! More challenges to follow!
Autumn News - Adventure Passport
Our Theme Weeks have all changed this year in order to allow for children to explore the great outdoors – as part of our work with the Adventure Passport. Each half term will have a different focus; this is to allow for all children to develop some key skills, which we believe are their right growing up.
In the first half term, the theme was The Adventurer, where all the children had a go at making a shelter. The children were set the challenge of creating shelters which could protect you out in the wild. Exploring Colwick Woods enabled children to find out about wildlife and how they shelter themselves from the elements, using this for inspiration for their own designs.
Madison in Year 5 said 'It was a good experience because it made us use teamwork in order to achieve something great.' Each shelter had a different style showing the children's experiences and their individual research, Faith in Year 5 said 'I will remember it this outdoor experience because I loved it so much! I collected sticks before the day. I want to do it again!' Speaking to the children shows how much they valued this experience, Yasemin from Year 6 said 'We couldn't just pick up an natural objects, they had to be natural objects from the floor so we didn't damage the beautiful environment. It was a wonderful time to be adventurous; questioning yourself about the curious creatures living amongst the woods.'

More recently, children used the natural environment to explore the use of natural materials in creating pieces of art in our theme week of 'The Discoverer – Amazing Art. Andy Goldworthy was a great inspiration for some year groups. We looked at how he used the natural colours to create pictures, and explored how the use of space can be used in the creation of pieces of art. The children let their imaginations take them on wonderful journeys where some of the Year 6 children created trenches linking to their recent topic of Wars which Shaped Britain;
Year 5 incorporated natural materials into their Year 5 Victorian topic – creating some wonderful pieces, fit for royalty! Aayan in Year 6 told us 'It felt amazing when all of our artwork came together! Everyone was really proud of themselves and what they had achieved; it was one of the best days in Year 6 so far!' Speaking to Zainab in Year 5, she told us that she liked the topic because she got to express herself, her feelings and it made her feel really great'.