P.E at the Academy
P.E is led and delivered by a specially trained P.E leader – Colin Finlay. He works in collaboration with all of our staff to ensure our children get the best possible opportunities for Physical Education delivered both by himself and class teachers.
Lots of events, competitions and clubs are on offer to our children – visit our Events Gallery, Clubs and Teams page and Upcoming Events page to find out more.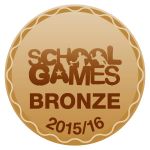 Nottingham Academy is a School Games Bronze Award School, commended for our commitment to the development of competitive sport.
The School Games Mark is a Government led awards scheme launched in 2012 to reward schools for their commitment to the development of competition across their school and into the community.
For our full information on Physical Education at the Academy, click here…